CRIMINAL DEFENSE & PERSONAL INJURY ATTORNEY IN
HOUSTON, TEXAS
Attorney at Law
DREW PRISNER
When you're engrossed in an unfamiliar legal situation, it can feel like the world is working against you. But that's why I'm here — to be on your side even through the most trying moments of your case.
Learn More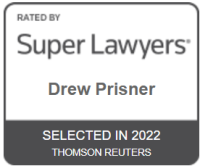 TESTIMONIALS
See What My Past Clients Have to Say
Drew... is a lion in the courtroom. He makes everything in the process smooth, and is such a pleasure to work with.
Drew represented me in a DWI Case and it was dismissed!! I would recommend Drew Prisner to anyone that is looking for great representation and getting their life back!
He did a great job setting expectations, walking me through the process and executing on everything we discussed… Following his expert advice, my case was DISMISSED!

Ranges of Punishment Under the Texas Penal Code
Most people understand that if a person gets arrested, that person will be charged with a crime (in the vast majority of instances). But, with what exactly will that person be charged? Will it be a misdemeanor or a felony? What will be the severity of the potential punishment range?
Read More
THIS JOB ISN'T FOR THE FAINT OF HEART. FORTUNATELY FOR YOU, I STAND UP FOR MY CLIENTS.
Losing a case could mean serious consequences for my clients. That's something I never forget.
In the world of criminal defense, losing a case can mean days, weeks, months, or even years of freedom being taken away from clients. As for personal injury, losing can result in a client missing out on work or not getting the compensation they need and deserve to cover medical bills and other expenses.
These consequences are very real and very impactful — and I've seen what poor or even mediocre representation can do to a client's case. That's why I always push for more. I push myself to be great, and I push for the outcomes my clients deserve.
To be frank, this job isn't for everyone. It takes focus, dedication, drive, and smart planning. These are my strengths, and they're the reason I've successfully resolved so many disputes in my career.
Just as important, though, is establishing a foundation of trust. The way I do this is very simple — by acting like myself.
When you seek my help, you won't get a show or be bombarded with a lot of lawyer lingo. You'll just get me — talking to you like a person and giving you my professional opinion in a genuine, straightforward way. It's this authenticity, I think, that keeps clients coming back when they run into legal issues.